AMECO Group Launches Brazilian Portuguese version of its Website
News
AMECO Group has launched a Brazilian Portuguese-language version of its website to make it easier than ever for Spanish-speaking prospects and partners to get information – in their native language – about all of the company's products and services, business references and latest news.
Among the features of the site is information about AMECO Group's shiploaders, reclaimers, and stockyards customized for power generation, cement and pulp industries among others; preventive maintenance services;and spare parts related offerings.
The site can be found at www.ameco-group.com/pt-br  or by clicking on "PT-BR" located on the top right-hand side of AMECO Group's website, www.ameco-group.com In addition, the main sections – "Industries," "Products," "References," "Services,"  and "About Us" – have been all translated in Brazilian Portuguese.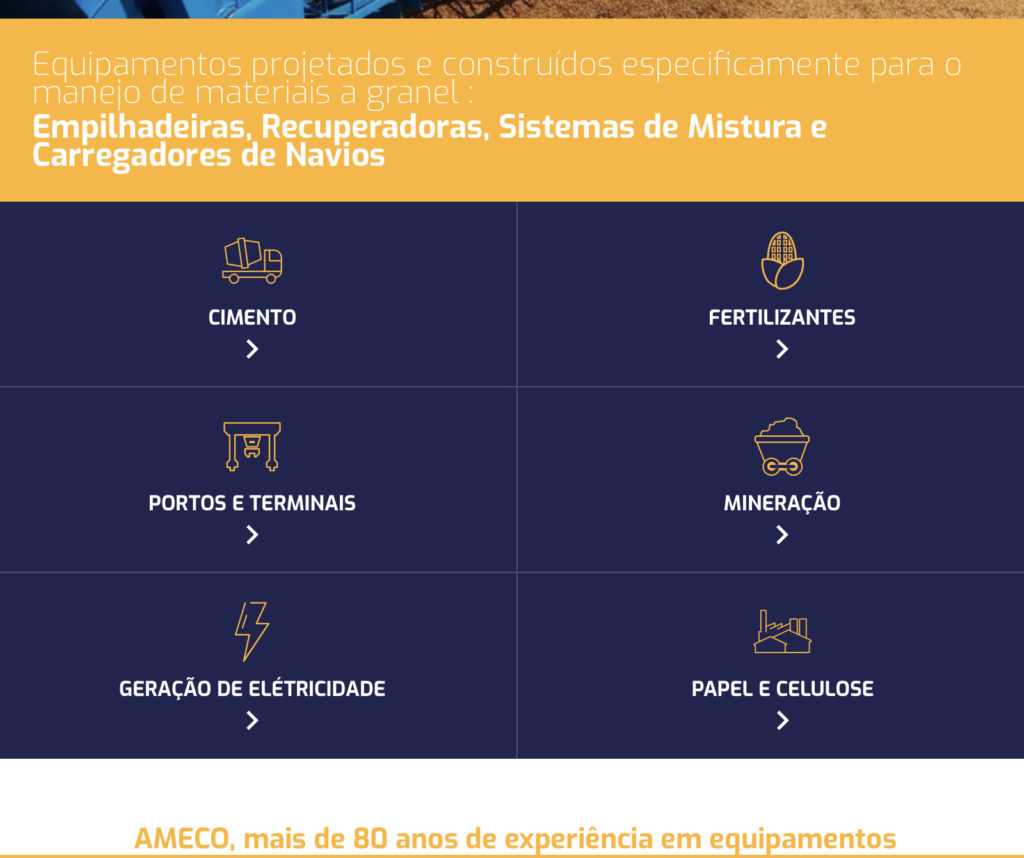 "We've had the availability for many years to engage with prospects and support existing customers in Brazilian Portuguese thanks to our local partners and dedicated representative in Brazil." said Stephane Killian, AMECO Group CEO. "We believe our newly launched Brazilian Portuguese version of our website will greatly meet the needs of our Brazilian portuguese-speaking prospects looking for information on our company."
About AMECO Group
AMECO Group, headquartered in Illfurth, France, designs and builds custom bulk handling equipment to demanding customers around the world.  Since 1932, AMECO has offered a full line of stackers, reclaimers, Shiploaders and Blending systems for handling all types of bulk material.
Our teams design the machines according to specifications of each customer and then ensures the manufacturing, monitoring, and on-site assembly. Throughout the life of the machine, we provide high-quality spare parts as well as expert maintenance support, either remotely or directly on site.
AMECO Group has more than 300 references on every continent in the Chemical, Petro-Chemical, Mining, Pulp and Paper, Cement, Power Generation, and Co-Generation Industries with our Shiploaders handling bulk materials in major ports and harbors worldwide.
Contact
Follow AMECO Group on: